Long time eh?
So its been quite a while since I've made a post. For anywone who's looked at this site more than twice this comes as no surprise. So a few things to kick off year 2009:

- The 'View in 3d" thing is no more. never got it to work correctly and it was more of a side project anyways. I will not be missed

-2009 comics are planned and ready to go...with 1 problem: WoW model viewer no longer works.While I could re install WoW, make a copy of it at patch 2.4.2 and install model viewer on that, it seems somehow troublesome, and means that i cannot do anything really new. So instead I'll just wait it out, or find an alternative, whichever happens first. on that note if anyone has an alternative feel free to let me know.

-Ummm, Gorloc...hats?


This site will remain up indefinitely for those who are newly finding it or want to see the old stuff. At this point I cannot put a date on the return of the comics, but as soon as I can I'll honk it from the rooftops. Ok so maybe kick someones shins and yell at them. In the meantime, have a good year guys and I'll see you eventually
posted by Fernurion @ January 6th, 2009, 2:59 am 2 comments
'View in 3D"
A quick note.

You may have noticed the new 'View in 3d" button in the sidebar. When completed this button will make this site fully compatible with the new Exitreality browsing tool. For now however it is an ugly, buggy, disorganised mess that will make your browser explode. Please do not click the button. Once the project is finished all will be revealed in a big, fancy, terrible dancing announcement.

And no, removing it will mean I can no longer edit the 3d Space. :P
posted by Fernurion @ September 18th, 2008, 5:30 pm 1 comments
Avatars and Model Viewer
I Prepared this Tutorial for the Greymane forum comminity a few days ago. Rather than let it go to waste it is now her for you all to use an enjoy. Before you begin you will need to download WoW Model Viewer at www.wowmedelviewer.com and have WoW Installed. Then follow these steps

1.
Quote:
Assemble your character. Choose your animation and position him/her till you're happy with how it looks. Note that some longer animations may be cut short, so keep it at around 2-3 seconds, and definatly no longer than 5. I'm looking at you dancing Draenei!

2. You will now need to set model viewer up to record a .gif in an avatar freindly way. Set the background colour to 0,255,0 (Green) or 0,0,255 (Blue). If you are using a widescreen resolution, minimise model viewer to retun you the a square work frame.

3. Go to File > Animated GIF and, after you choose a save location, you will get this ugly little thing pop up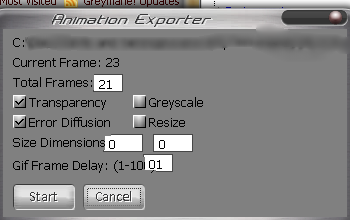 4. The frames box will already have a default value in it, depending on your animation. Reduce this value by around 20-25%, rounding down. This will cut the file size down and make the animation smoother. Click on both Transperancy and Error Diffusion (if they are already on, click them off, then on again). Set the frame delay to 7. If you want your avatar in black and white, click on Greyscale. Greyscale avatars have are much lower file sizes, anywhere up to 75% smaller, depeding on content.

5. Click on Resize, then type in the dimensions of the finished avatar. do not type the value then click resize, as that will delete the values you just entered. A good avatar size is 130x130, however for best results check the site(s) you want to use it on and pick a size from there.

6. Open up the folder you saved your av to and voila, one new avatar. It should look something like this




Note that the transperancy isn't perfect and you avatar may have a white background. There isn't a whole lot you can do about that without using a gif editing program. Your avatar is now useable, so go nuts if you like it like that.


Backgrounds
Backgrounds are easy to add. Simply take a screenshot ingame and go to View> Load Background and Browse for your image. Images are automatically resizes to fil the screen, so avoid using small pictures and thumbnails unless you like the stretched pixely look.. Position your character and record as before, turning transperancy off this time. You'll get this


(Note: Do not run WoW, Model viewer or Map viewer at the same time. This will cause graphic glitches and make your memory cry)

Borders and shiny junk.
Start with a screenshot from WoW and drop it into your image editing program. Draw in your border, text and anything else you want to add (Sorry, no animated objects). When you're happy with it save it and import it into model viewer. Keep in mind that the image is stil a background so whatever you draw will appear behind your character. A simple example, with a small border added:




Glitches
Model viewer is still a bug's 5-star hotel. Here's a few common problems.

-Blue/green Flashes
-- Model viewer tends to be rather memory dyslexic. it often decides that your memory is full even when it isn't thanks to the way it stores textures and models in the cache until you close it. Aside from the gif flashes you may also encounter random crashes or models covered in another models texture. To fix it close model viewer, close any other programs, then restart model viewer. if it persists, restart your computer.

-Distortions, discolouration, speckles
-- Make sure your background is straight blue or green. If that dosn't work see above.

-Chunks missing from Gear
-- Model viewer can be a bit weird on what it chooses to be transperant. Certain peices of gear will have gaps and missing parts once they are published. The only solution is to change gear. As a general rule, avoid the following

Hunter T4
Pally, Warriour T2.5
Goggles
Latro's Shifting/Dancing Blades

Aside from goggles and T2.5, the bug seems to affect items with the dynamic armour reflections introduced with BC. In the case of this bug though the best approach is trial and error.

Good luck!
posted by Fernurion @ September 13th, 2008, 6:21 pm 0 comments
Epic fail
Despite my best efforts, I have been unable to complete the olympic series of comics on time. at current, the series is roughly 50% done, however due to the rushed time schedule I am far from happy with the result. So instead of releasing today as I had hoped and worked for, I shall instead be putting the entire project back onto the drawing board, to improve it and complete it to the standard that I was originally aiming for. Unfortunately I am unable to give a new completion date at this time. Instead I shall be returning you to your regularly scheduled weekly comic, commencing Monday.

Watch this space for further updates and Cyas Monday!
posted by Fernurion @ August 8th, 2008, 3:20 am 0 comments
Olympic update: Writers block!
Week 2, 23 days to go

Progress is... progressing. I have almost all of the groundwork done, events laid out and gags planned. for the most part all that remains is to put them together. So far one is complete. A few numbers for those who like statistics

Elements: 150+
Different wow models: 25
Fatalities: 16
Words: many
Kittens wearing Bowler hats: 1

That is one of the small ones.

With that said work on event number 2 is coming along nicely. Now that the first one is done and the preliminary work is finished its going a lot faster. still no idea if I'll make the deadline though.

I have hit a snag however. so far I have developed and planned 13 events, leaving 2 with massive question marks sitting on them like angry hippos. Lets have a little fun with this and run a little contest. Go ahead on think up your weirdest and wonderful warcraft based sporting event. It can be based on anything you want. an adaptation of a real life sport, a daily activity made competitive, anything. The winners will be chosen by their originality and how well the idea translates to comic format. entries can be posted as replies to this news post or on the Greymane US realm forum thread.

and finally, lets see some images!

What sporting event would be complete without blatant product placement and gaudy sponsor ads? The WoW olympics do not escape this, with adds dotted about the stadiums. For now these ads are still in a working PNG format, but over the next few days I'll shrink them a bit and confert them to JPG for use as forum signatures. Enjoy!

Coming up next, Barrens Chat!



Mmmm, Noobsauce



Just don't bother. It'll do no good



Obligatory tourist type commercial



smell like your inner innards



The thirst Pwner



Farmed fresh daily!




The agency that never sleeps



Finally, my personal favourite

posted by Fernurion @ July 15th, 2008, 8:58 am 0 comments
WHat the heck happened to Greymane!?
A question I intend to answer. If you don't like complaining, moping or general QQ, I suggest you skip this bit and get to the good bits below.

As you may know I was Guild leader of Aeternum on Greymane US server. This was a tough job that only got harder and harder as it went along. The guild was plagued with problems that I was unable to fix. The day the comics stopped I suffered massive WoW burnout. I then made the serious mistake of powering on in spite of it. The problems got worse, the other officers all in turn burned out and left, and I went from Burnout to blow out and eventually to Bumout. I got the point of wanting to delete WoW and never look at it again. The comics stopped and were neglected. However thanks to the great people in Immortalis, those left in Aeternum after its 'stopping' and many others, I am on the mend and am coming back to WoW all happy and renewed. Special thanks for Iheartdeath and BBQBeef of Aeternum, without who I would defiantly have thrown in the towel long ago.


-=End QQ=-

With my return to happy, fun Wow comes the resume of Greymane Comics. Thanks to the folks who have been frequently checking the site for new stuff, in vain up to now. Unfortunately though there will be now new comics for at least another month. Those who have been counting, and those who turned on a TV in the last 24 hours, would know that it is now 30 days to the opening of the Olympic games in Beijing. It is also 30 days to the beginning of my own WoW Olympics. Thanks to my slump though the project has been largely untouched until now. I now have a big challenge ahead of me.

17 big, awesome, well written, well designed, funny comics
30 days to do it.
Easy, right?.

I'll let you all know know, the project may be a bit late to finish. I'll post more information, leak a few images and mebbe hold a little contest over the next few weeks.
posted by Fernurion @ July 8th, 2008, 4:20 am 0 comments
And so, it begins
Unless you have been living under a rock for the last few weeks, you will know that the Olympic torch will be lit tomorrow and commence its journey around the globe, passing from hand to hand along the way. To go hand in hand with this, the torch run for the Warcraft Olympiad begins at the same time. Beginning tomorrow, an item symbolising the Olympic torch will be passed around. I will start with myself, and from there it will be cast to the winds to see who takes it and where.

To ensure this is a success, there have to be a few rules laid out.

1. The torch will be easy to recognise. The item is a Bronze mace with a firey enchant on it, distinguished by the 'Made by Moga' tag attached to it. if you receive a 'torch' without this tag on it, vendor it and enjoy your 57 copper, it is not the real one.

2. Once you hand the torch on to the next person. visit the Greymane realm forum and post who you have passed it on to. If you like you can include a short description of what you did with it. Anything from bludgeoning a dozen piggies to killing Illidan with it.

3. Before passing the torch on, ensure the person you are handing it to knows what it is and what it represents. If they don't know, tell them about it and ask them to read the forum/comic site and find another person. Also, please do not pass it to someone who has had it in the last week.

4. Each person is to keep the torch for 24 hours. This gives people a chance to do something fun with it while ensuring a lot of people get it at some point.

5. Finally, if the torch gets lost for any reason, let me know as soon as possible so I can get a replacement out on the road. if the original shows up after a replacement has been issued, send it back to me.

Along with the torch relay, there will be a comic released to go with it. Sorry guys but this one is a more serious piece. The actual sports comics will be better. each week a small picture will be released showing the torch in a different location. These comics can be found at wowolimpics.smackjeeves.com, a link to which can also be found on the navigation bar (Yes, I know it should be centred)

With a bit of common sense and honesty this will be a fun little event. Cyas on the trail!
posted by Fernurion @ March 24th, 2008, 7:54 am 0 comments
An even of Olympic Proportions
Its 2008, the first time that WoW and the Olympic Games overlap. With this in mind, I am happy to announce Greymane Comics' upcoming event, the WoW Games! (Title subject to buff)

Beginning March 25th, the Olympic torch relay shall begin, coinciding with the lighting of the IRL Torch. This is largely for fun and to get people involved. A Mmace will be enchanted with fiery enchant and passed from player to player until the start of the games themselves, provided it doesn't go missing, get ninja looted or handed to a junk-happy vendor. More on this event soon.

On the eighth of October, some noob will light a fire deep in the heart of gold farmer territory. The moment he does that the opening ceremony comic will be released, and the WoW Games begin in earnest. 10 races duke it out over 15 events, all in comic form. A new comic will be released for each day of the games, making a total of 17 comics. All comics will be equal to or larger than the aristocrat comics. Its a project so large that I have to start now in order to get it done in time...right after my procrastination break.

In addition to this, a community tally will be held, allowing people to vote for their favourite race once a day to decide the ultimate winner. The running tally will be counted after each day and updated to ensure pou keep on top of the action. The Closing Ceremony comic will be finished on the final day and released fresh off the press, with the winning race in the spotlight.

More information to come, as well as some posters to stick onto condemned buildings, the bottom of rubbish bins and the neighbour's cat.
posted by Fernurion @ March 4th, 2008, 7:40 am 0 comments
Hosted by SmackJeeves ·
All content copyrite of Aaron 'Fernurion' Mitchell 2007
fernurion@gmail.com