Avatars and Model Viewer
I Prepared this Tutorial for the Greymane forum comminity a few days ago. Rather than let it go to waste it is now her for you all to use an enjoy. Before you begin you will need to download WoW Model Viewer at www.wowmedelviewer.com and have WoW Installed. Then follow these steps

1.
Quote:
Assemble your character. Choose your animation and position him/her till you're happy with how it looks. Note that some longer animations may be cut short, so keep it at around 2-3 seconds, and definatly no longer than 5. I'm looking at you dancing Draenei!

2. You will now need to set model viewer up to record a .gif in an avatar freindly way. Set the background colour to 0,255,0 (Green) or 0,0,255 (Blue). If you are using a widescreen resolution, minimise model viewer to retun you the a square work frame.

3. Go to File > Animated GIF and, after you choose a save location, you will get this ugly little thing pop up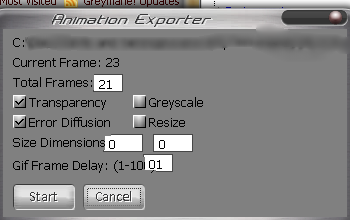 4. The frames box will already have a default value in it, depending on your animation. Reduce this value by around 20-25%, rounding down. This will cut the file size down and make the animation smoother. Click on both Transperancy and Error Diffusion (if they are already on, click them off, then on again). Set the frame delay to 7. If you want your avatar in black and white, click on Greyscale. Greyscale avatars have are much lower file sizes, anywhere up to 75% smaller, depeding on content.

5. Click on Resize, then type in the dimensions of the finished avatar. do not type the value then click resize, as that will delete the values you just entered. A good avatar size is 130x130, however for best results check the site(s) you want to use it on and pick a size from there.

6. Open up the folder you saved your av to and voila, one new avatar. It should look something like this




Note that the transperancy isn't perfect and you avatar may have a white background. There isn't a whole lot you can do about that without using a gif editing program. Your avatar is now useable, so go nuts if you like it like that.


Backgrounds
Backgrounds are easy to add. Simply take a screenshot ingame and go to View> Load Background and Browse for your image. Images are automatically resizes to fil the screen, so avoid using small pictures and thumbnails unless you like the stretched pixely look.. Position your character and record as before, turning transperancy off this time. You'll get this


(Note: Do not run WoW, Model viewer or Map viewer at the same time. This will cause graphic glitches and make your memory cry)

Borders and shiny junk.
Start with a screenshot from WoW and drop it into your image editing program. Draw in your border, text and anything else you want to add (Sorry, no animated objects). When you're happy with it save it and import it into model viewer. Keep in mind that the image is stil a background so whatever you draw will appear behind your character. A simple example, with a small border added:




Glitches
Model viewer is still a bug's 5-star hotel. Here's a few common problems.

-Blue/green Flashes
-- Model viewer tends to be rather memory dyslexic. it often decides that your memory is full even when it isn't thanks to the way it stores textures and models in the cache until you close it. Aside from the gif flashes you may also encounter random crashes or models covered in another models texture. To fix it close model viewer, close any other programs, then restart model viewer. if it persists, restart your computer.

-Distortions, discolouration, speckles
-- Make sure your background is straight blue or green. If that dosn't work see above.

-Chunks missing from Gear
-- Model viewer can be a bit weird on what it chooses to be transperant. Certain peices of gear will have gaps and missing parts once they are published. The only solution is to change gear. As a general rule, avoid the following

Hunter T4
Pally, Warriour T2.5
Goggles
Latro's Shifting/Dancing Blades

Aside from goggles and T2.5, the bug seems to affect items with the dynamic armour reflections introduced with BC. In the case of this bug though the best approach is trial and error.

Good luck!
posted by Fernurion @ September 13th, 2008, 6:21 pm - 0 Comments
Hosted by SmackJeeves · Design by Enkida